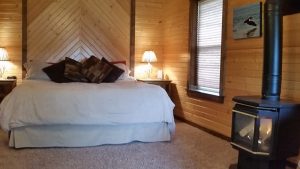 Horn's Ferry Hideaway's true mission from day one has been to provide a place for couples to enrich their relationships and reconnect with each other and God's creation. Many of our couples have said the vacation cabins are a "magical place" that has "reinvigorated their relationship".
The setting is peaceful, quiet, relaxing, and restorative. The plush king sized bed, Extra-large Jacuzzi tub for two, ambiance of the fireplace, and beautiful scenery may just be what you and your loved one need.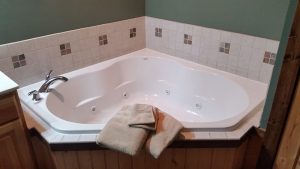 Pella and Knoxville are a short drive and offer many excellent dining and entertainment options. Each cabin has an extensive dining guide to help you decide. No problem if you don't feel like leaving the comfort of the cabin because we offer a fully equipped kitchen to prepare your own romantic dinner.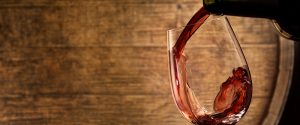 Many couples have found a day trip to the many local wineries an enjoyable experience. A few to include on your list are Tassle Ridge Winery in Leighton, Iowa and Nearwood Winery in Knoxville, Iowa.
Connect with each other and nature by exploring Lake Red Rock. From walking nature trails to renting a boat for the day, you're sure to find yourself having a great time with the many opportunities the lake offers.
View our extensive list of Outdoor Activities and Area Attractions.