Open Year Round!
Rates vary $132-$200 per night
Exact nightly pricing rates can be found on the availability calendar.
*Minimum 2 night stay June thru August (1 night stays allowed after week fills up).
*Minimum 2 night stay on weekends throughout the year (Fri/Sat).  
*Additional minimum night requirements for holiday weekends and local special events.  
Specials on Cabin Rates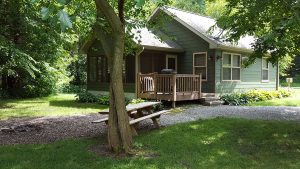 3-night package
Includes a $25 gift certificate to a local restaurant or grocery store. (Excludes mandatory 3-night weekends and Knoxville Nationals)
7-night package
One FREE night during the non-peak season! 
CONTACT US FOR LAST-MINUTE DEALS
Call or email for special discounts for last-minute reservations (must be made within 48 hours of stay). 
 *  Gift certificates are available for an unforgettable and unique gift! Then combine with local attractions to make a fun gift basket. Here is a list of activities in addition to area businesses in Pella and Knoxville. Finally, wrap it all up for the perfect give. Give us a call. We would love to offer some suggestions and help put that perfect experience together. 
Area Attractions
There are many things to do around the cabins, however, you can explore other nearby attractions if so desired. Certainly, you will find some new experiences to try! 
Local Attractions
Other Area Attractions
In addition, all the attractions listed below are within an hour of driving distance from Horns Ferry Hideaway. However, a car is recommended even if you prefer to stay around the lake. 
In conclusion, there are many things in the area to explore.